November 16, 2020 in Thought Leadership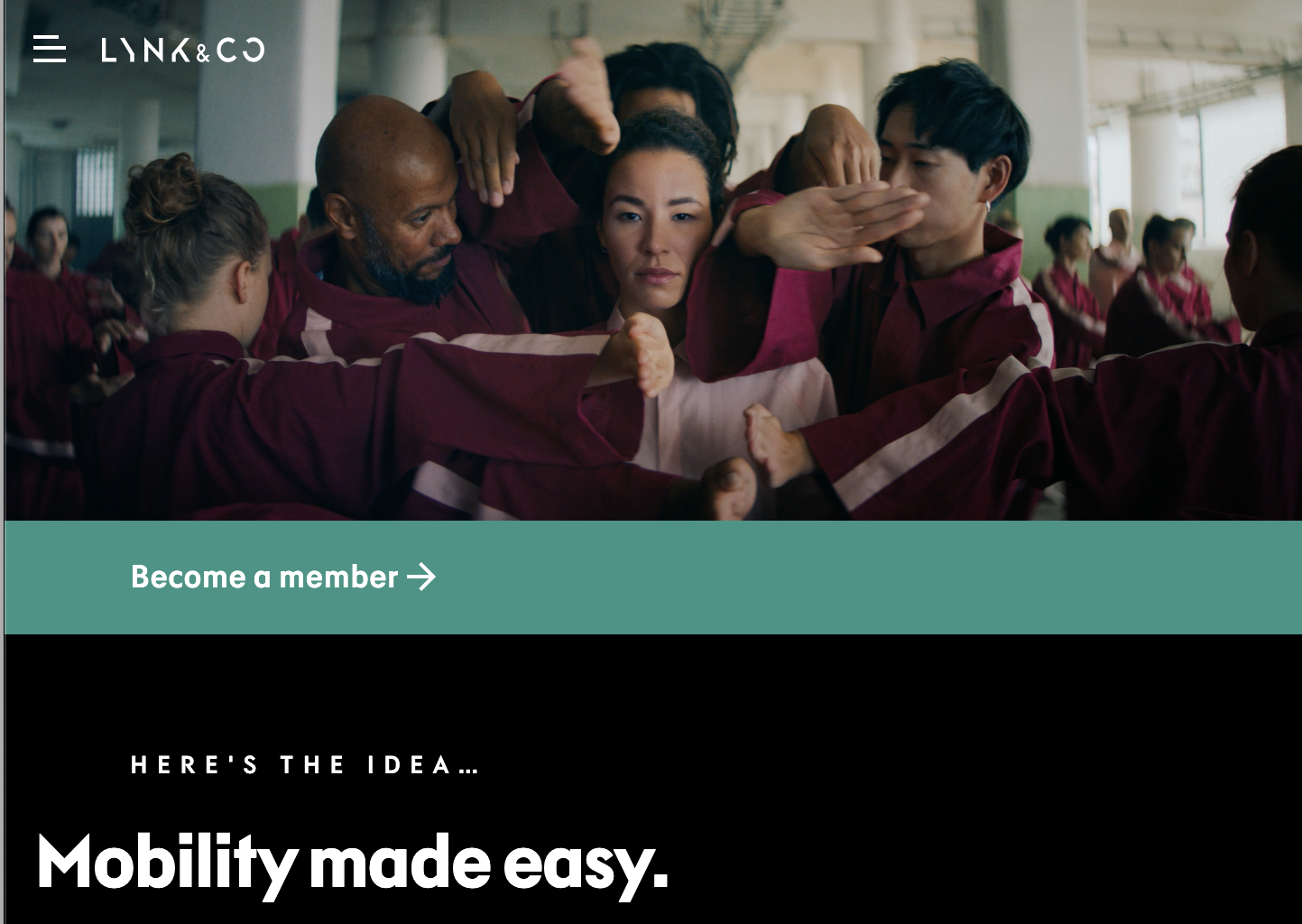 by Greg Ross, Connected Vehicles Practice Lead, motormindz
Lynk & Co is a new sub-branded line of cars, formed as a subsidiary company of China-based Geely Auto Group, and launching with a hero vehicle based closely on the Volvo XC40 SUV. The brand launched in China in 2018 using a traditional dealer-based distribution system, but Lynk & Co proposes to use an all new business model when it launches in early 2021 in Europe, and later in North America. According to interviews with Lynk & Co's CEO, Alain Visser, the brand hopes to tap into three major trends that are especially popular among urban Millenials: The Sharing Economy, Subscription Models, and Connectivity. Several OEM's have experimented with various forms of car-sharing and subscription models, but none have been a breakout success. Is Lynk & Co on track to arrive at a different destination?
Can Lynk & Co do "Sharing" like Airbnb?
The first issue Lynk & Co must address in its planned launch in (slated for early 2021) is the issue that we are all still currently dealing with the global COVID-19 pandemic. With this as backdrop, some prospective customers will shy away from sharing cars with strangers until the risks are firmly in the past. Still, Lynk & Co have taken some interesting steps to build sharing into their offering and their business model. The first step is to design vehicles to be easily shared through software. Owners of a Lynk & Co vehicle can indicate that a car is available though an in-vehicle application or through a mobile app. Owners set their own rates, and Lynk & Co manages all transactions at no charge. Lynk & Co provides connectivity to each vehicle so that it can be located by a renter. A mobile app can be used to gain access to a rented vehicle, to start it, and to pull down cloud-based personal vehicle settings from the user's profile. To take further friction out of sharing, Lynk & Co vehicle pricing plans include insurance for both owners and any other users with whom the car is shared. In fact, owners are encouraged by Lynk & Co to make cars available for sharing as a way to offset vehicle costs. Overall, Lynk & Co's sharing features appear to be some of the more innovative parts of their offering.
Lynk & Co's sharing features are a great illustration of the potential for some key Connected Car technologies. The mobile app that unlocks and enables the vehicle, plus the built-in connection that monitors vehicle usage both provide a way for Lynk & Co to identify and learn about each individual user. This will give Lynk & Co unique insight into usage patterns and behavior. Lynk & Co also indicates that there will be an ability to deliver unique services and information to displays inside the vehicle, and that it will be possible to update vehicles with new software-based features. Together, these technologies will create the potential to create new services and revenue streams for Lynk & Co, for its customers, and for prospective platform partners.
Can Lynk & Co do "Subscriptions" like Spotify or Netflix?
Lynk & Co's CEO has emphasized in several interviews that his intention is to challenge the traditional automotive business model, and focus firmly on a subscription approach. He points to the ways that companies like Netflix or Spotify have disrupted the video or music industries by giving customers a huge range of choices for a reasonable price. These companies have then observed their customers' usage closely and delivered improved content and features over time. Lynk & Co hopes to do the same, using connected technologies and analytics. Lynk & Co also hopes to model subscription-oriented companies with a focus on developing and maintaining close subscriber engagement. One way to do this is to replace traditional showrooms with "Clubs," like the one recently opened in Amsterdam. Clubs are places to hang out, enjoy a coffee, see unique entertainment, and so on. There is a vehicle on display, but it is not the center of attention. Vehicles that need maintenance or repair are taken to a remote site.
Three levels of subscription are available. The basic level is free, where subscribers download the app, have access to vehicles to share (rent), and get access to Lynk & Co "clubs" and events. The next level costs 500 Euro per month, and includes a vehicle, maintenance, and insurance. Owners can offer their vehicles for sharing at any time through the Lynk & Co app. Subscribers to this monthly plan can cancel at any time with only one months' notice. Finally, it is also possible to purchase a Lynk & Co vehicle outright for 39,000 Euro, and also make it available for sharing on the Lynk & Co app. The 500 Euro/month program does appear to be more of a true "subscription," in that it can be easily cancelled. Over time, analysis of subscriber behavior and usage should provide Lynk & Co with insights that it can use to adjust and target subscription offerings and prices. In-app and in-car display capabilities should also provide Lynk & Co with opportunities, over time, to generate new revenue through targeted features, based on its growing understanding of its subscribers.
Starting out, Lynk & Co will only offer one vehicle, the "01," in two color choices and two hybrid powertrains. It makes sense to start simply, with a popular vehicle configuration and limited variations. This maintains the focus on developing an engaging subscription service that meets the needs of a core group of users. To be a truly successful subscription service like Netflix over time, Lynk & Co will need to then show that it can engage closely with its subscribers, analyze their usage, and respond quickly to deliver on un-met needs. This may come in the form of new software-based services, or in new vehicle or powertrain configurations drawn from the global Geely/Volvo portfolio.
Can Lynk & Co Lead in Connectivity?
In an interview at Lynk & Co's new Amsterdam club, Alain Visser was quoted as saying, "It may sound strange, but in the car industry today, the biggest challenge is not the mechanical parts, it's the software." Visser was describing the software required to enable Lynk & Co's extensive sharing model, and the extra time that was required to do the coding. Earlier interviews indicated that Lynk & Co intends to have extensive connectivity. This would include Over-The-Air (OTA) delivery of software repairs and features, as Tesla does. It would also include a Developer Platform to enable third parties to create new software-based features for Lynk & Co subscribers. Lynk & Co is on the right track with its focus on software to continually upgrade and update the vehicle and the user experience. Visser is also right to observe that this has not been a strength of the traditional OEM's. To really succeed, Lynk & Co will need to make sure that its vehicle systems are well-designed for updating, and that it is ready to engage with a robust developer community.
As Lynk & Co kicks off its launch in early 2021, it will be exciting to watch their progress and the adjustments that they make as they engage with their first subscribers. As the most successful subscription companies have shown, it is not essential to launch with the perfect product. It is absolutely essential though, to listen closely, learn quickly, and move fast.