November 5, 2020 in Thought Leadership
by Greg Ross, Connected Vehicles Practice Lead, motormindz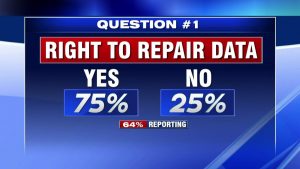 Among all of the important decisions made on November 3, there was one in Massachusetts that may significantly affect auto dealers, manufacturers, independent repair shops and auto owners. Question 1 on this year's Massachusetts ballot expands existing "Right to Repair" laws in the Commonwealth to require auto OEM's to make data from telematics systems available to independent repair shops. The law, which appears to have been approved by a wide margin, will require all auto OEM's to place telematics data on an independently-operated data platform. The data on the platform will then be available, upon customer consent, to any independent repair shop. The law requires this data platform to be in place in Massachusetts beginning with the 2022 model year.
New Business for Platform Providers
The first opportunity will be for one or more platform providers to build the "independent" platform that the law requires. There will be significant work to be done to take data in from all telematics-equipped OEM's and prepare it for distribution to hundreds of repair shops and potentially other end-users. This will not be a simple task, since most OEM's are just at the beginning of their telematics implementations. There is no common data standard. Different OEM telematics systems have access to different kinds of data, with different reporting frequencies, and widely different reliability. The platform will also have to be highly secure, in order to honor customer expectations for privacy and control over which parties should have access to data. And finally, the platform will need to enable billing, as there will presumably be a charge to cover the cost of data collection and processing.
New Opportunities for Service Providers
Question 1 was strongly supported by independent auto repair shops and auto parts and repair chain operators in Massachusetts. Their coalition successfully framed the question as one of "closing a loophole" in the current Right to Repair laws. They said that repair shops need data from telematics systems in order to repair vehicles. As their opponents — led by auto manufacturers — pointed out, this is misleading. Independent repair shops can already get the data they need to perform diagnostic and repair services. Once a vehicle is in their shop, independents already have an ability to use the same diagnostic tools available to franchised dealers. What the independents really hope to gain however, is a direct connection to the customer. My own Chevy Colorado can serve as an example. Today, when the diagnostic systems on my truck indicate the need for an oil change, Chevrolet is authorized to use the built-in telematics system to notify my Chevrolet dealer. Whenever my oil life gets down to about 20%, I get a call and a text from my dealer to schedule an appointment. Question 1 will make it possible for customers like me to give the quick lube shop down the street the same connection. The tire shop could be notified when tire pressures are low. A fuel provider could be notified when a fill-up is needed. CarFax may ask for permission to keep track of diagnostic, maintenance and mileage activity to help owners prove the value their used vehicles down the road. And so on.
Implications for Dealers
The Independent shops in Massachusetts clearly hope to use this new initiative to gain business from franchised dealers (or prevent current business from being lost to Dealers). In order to maintain and grow the dealers' share of non-warranty repair and maintenance business, dealers will have to make excellent use of the telematics systems installed by their manufacturers. Dealers start with a key advantage, which is the opportunity to start a connected service relationship with the customer from the moment the new or used vehicle is delivered. Dealers must be sure to activate systems and secure customer consent to share service and maintenance data with the dealer. Dealers then have to do a great job of managing data notifications to quickly schedule customers for any needed service work. Dealers will have a very brief head start to fine tune their use of connected car service notifications, and they will need to take full advantage.
Questions Yet to be Answered
Now that Question appears to have passed, this is only be the beginning. Given that state of readiness of most OEM's, a model year 2022 deadline will be very difficult to hit. The Commonwealth will still need to answer many questions about the kinds of data that must be provided and the types of consent that must be obtained. A platform provider will need to be sourced, and there will be many questions about how a provider should be selected, who should pay to create the platform, and how its operating costs should be covered. There will also be questions about who qualifies as a "repair shop" and represents a legitimate user of the telematics data stored on the independent platform. Question 1 also says that the platform should not only collect data from telematics systems, but also deliver "commands" to connected vehicles to enable diagnosis and repair. It is unclear whether this is intended to mean that independent repair shops should be able to deliver Over-the-air, or OTA software "patches," or "updates." Though Tesla has demonstrated this OTA capability extensively, most OEM's will not be ready to support widespread OTA delivery of software updates by model year 2022.
As with so many other issues on the ballot this year, the most interesting thing will be to see what happens now that the election is over.